The Struggles of Teachers
Lack of Resources Meets Overwhelming Support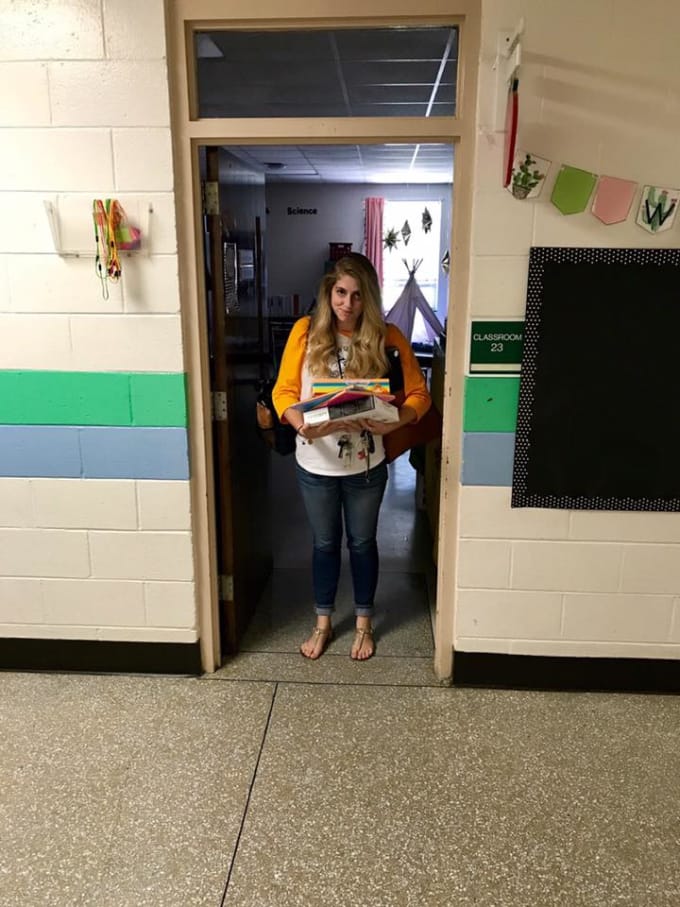 I've officially been a teacher for two years and four months, and I have loved all 851 days of it (particularly the days in June, July, and August, but pay that no mind). I am in constant search of what I can do better for my students, be that material, environment, or content presented to them. Let me tell you, there is no shortage of ways to improve as a teacher, and no shortage of county officials telling you how to better do your job. It takes dedicated hours (no, I'm not finished at 2:30, and I do more work in June, July, and August than should be acceptable on vacation). I am constantly planning and re-working lessons, and looking for engaging and rigorous content to ensure each day is a successful for students.
I recently moved to North Carolina to be closer to my army boyfriend, who subsequently left for Afghanistan, but that's neither here nor there. I left a district which provided curriculum and workbooks for our lessons in math, reading, and science. It left little room for creativity, but ample time to plan, assess, and remediate with my students at their level. I've come to a district which has given me nothing but the Common Core State Standards, and an intervention system to be used on a website with the computers I have access to two times a week. Needless to say, it has been quite the adjustment.
I have been up to my eyebrows in stress since before school even started, attempting to plan and be successful for my students. This started with setting up a classroom environment that would allow my kids to feel safe and comfortable; a place where they would be free to move and be ten years old. If you've been following any educational blogs or websites for the past few years, you've heard a bit about flexible seating. Flexible seating is a range of different seating options for students to choose from throughout the day. Seating choices can be anything from wobble cushions at a standard desk, to yoga balls, a futon, floor pillows, stools, and many other choices. There is so much research behind the benefits to flexible seating, and yet, so many walls put up from county officials and administration.
"Where will they take their tests?" I was asked. That was their concern.
Despite the benefits the research has shown, there would be no funding from the county.

However, with help from my brother and sister-in-law, parents from previous students, and of course my own wallet, I was able to get together a few different types of seating to change this classroom in to a place where students would want to come in the morning.
I was so happy with the result. I knew that my students would be free to wiggle and wobble throughout the room and really find seats that work best for them.
Now that my environment was set up, it was time to prepare my lessons. But where to start? I was used to having class copies of books, pre-set lessons, access to countless resources, manipulatives, workbooks, and money from the state to start the year. I won't lie, I relied very heavily on my team from the beginning of the year. They were gracious, having experience in 5th grade that I did not have, and therefore a level of comfort with the standards and lack of material that could only come with experience.
They helped me scrounge for articles, math reviews, and when there wasn't something that worked for what I intended, I learned to make it. This has been the largest growing pain, and the one I am most proud of. My lessons are strong, and my students (14 weeks into the school year, have already shows significant growth). However, my team really only had resources for math, reading, and science, since these subjects are tested subjects. But what about social studies?
Y'all (I live in North Carolina and I say y'all now). My bachelors degree is in history. I was not about to let this slide. But what could I do? I was already in way over my head with the other subjects, and with my boyfriend newly deployed, I was taking care of his very adorable puppy, which left me little time to stay after school and create new content for these kids. Then I realized, why not purchase material for the students based on history AND current events that they'd be interested in? Scholastic News. The perfect solution! Except I am a teacher, and $391 is an exorbitant amount of money.
Again, I reached out to my community, both local and on Facebook through Donor's Choose. Donor's Choose is a platform for teachers to beg for money for their classroom, which I did with pride. My students needed more in social studies, and the people came through. It took less than two weeks for people to donate their hard earned money and our project for Scholastic News was fully funded.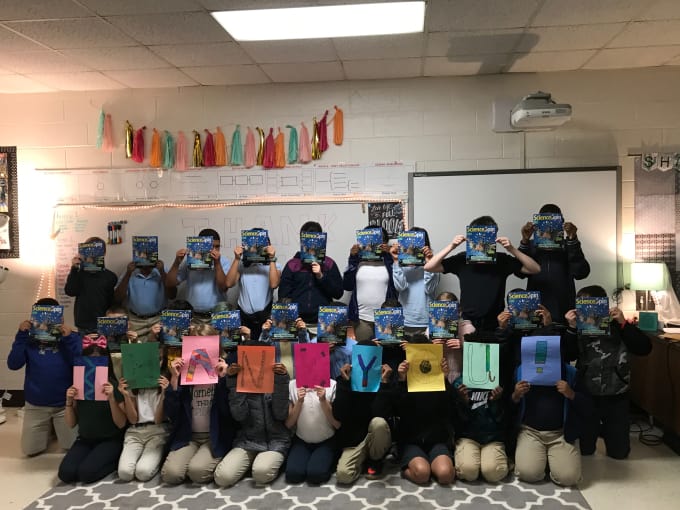 I was inspired. I was achieving for my students, and they were achieving in the classroom. They're happy learners who love school and have a natural curiosity. I wanted my students to dream big, and therefore I had to also. I had been reading more and more about allowing students to choose what they wanted to learn in the classroom, and how that fosters a love of learning, and continued curiosity.
What kept popping up over and over was something called Genius Hour, which seemed the most feasible and very exciting. It's one hour a week in which each student gets to research a topic of their choosing to become an expert on. A full hour away from my testable subjects? Okay, I'm in. My kids started their project using the computers that were in my room twice a week. This started well, until the minutes of time my students were working on the remediation website began to dwindle. Yes, this is important for a few reasons.
This is a very expensive program which my school pays for.

It's a good program, which remediates to a level that I could not. It meets each student at their individual level for both reading and math. It was important that they had ample time for that practice.

So, what was I to do? I only had the time I had, and the materials I had. I didn't know what to do to continue the projects at a rate that made sense. My students needed more consistent access to computers and internet in order to conduct effective research, and I knew I couldn't give that to them. I knew, however, there were people who could.
I went back to Donor's Choose, and because I am insane, I requested ten Chromebooks. My mom had suggested I ask for two... another teacher in my school had requested three from Donor's Choose and was still waiting for her project to be funded. But if this was going to make sense for 29 students, I would need a much larger number of computers.
Guess what?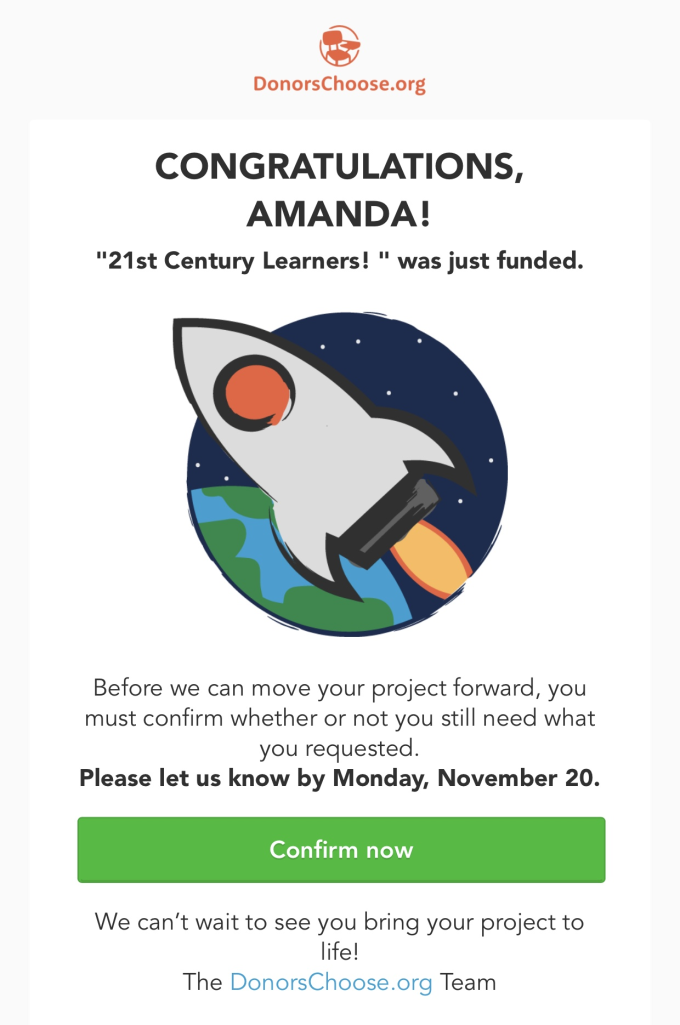 It took less than three weeks and my project was fully funded. My students would now have ten computers in the classroom at all times! It was amazing to watch people rally around this project. It started with a $10 donation from a high school friend back home, to a large donation (almost $450) from Macy's. Every time we got a new donation, I would tell the kids, and they would absolutely lose their minds with excitement. To be honest, so would I.
It's November and I have changed so much as a teacher. I've adapted to my new county; my students use privacy folders when testing in their flexible seating, and I've begun to create pretty fun (well, I think so, check with my kids), lessons. That being said, my school administration has been wonderful about trying to get us new and better resources. We now have a math workbook for all of our students, that aligns with our remediation program, as well as an amazing resource for access to hundred of books online.
I look forward to continuing to make waves in this school, county, and state; and I plan to teach my students to do the same.