How Having Student Loans Has Changed My Life
And Why I Think It's Ultimately Worth It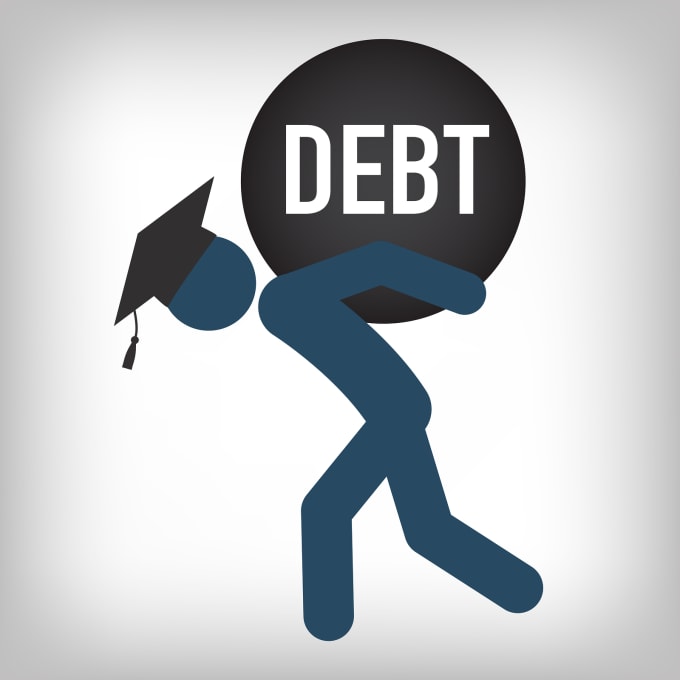 When I was younger, I never imagined I'd have to worry about debt. I never pictured being consumed with thoughts of an ever-present "monkey on my back," so to speak. This monkey called student debt has haunted me ever since I signed on the dotted line and accrued $30,000+ in debt for my college education. Honestly, as a doe-eyed 20-year-old who had just barely graduated from community college with my Associate's degree, signing up for a bit of debt did not seem like that big of a deal. There would still be so much time left before I would have to start paying it back, and besides, I'd have some type of fancy career by then anyway, right? Or maybe...not.
Fast-forward 10 years and I've questioned my life choices more times than I can count. I got the education, have the piece of paper that is my degree hanging in my living room, framed in all its glory, and yet on some days I still wonder if it was all worth it. I wonder this because I'm now married, have two young children and a myriad of other bills to pay, and I'm not working in my field of choice. In fact, I'm not working at all, save a few babysitting gigs here and there and my freelance writing projects (which begs the question: perhaps I should have majored in English and taken creative writing classes instead of majoring in Psychology and never getting my Masters degree?)
But, I digress. Having student loans makes my life a lot different in many ways, and a lot harder, if I'm honest, than it would be without them. I have to make large payments twice a month, and that's money that could have gone to groceries or diapers or taking my kids and husband someplace fun like an amusement park or museum. I carry a lot of guilt that my husband is the sole bread-winner and that he's having to use his hard-earned money to help me pay back my education. At the same time, he knew about my loans when he married me, so there were no surprises there. Still, it pains me every month to click that submit button and make my payments, knowing that money could have been going into savings for us to save up for a house, or Christmas presents, or a plethora of other things.
However, despite all these drawbacks and the dread I feel not once, but twice a month, I still believe my college education was (and is) worth it. I grew into my own person and came out of my shell in college. I made life-long friends who I still get together with to this day. Those memories are precious and can never be replaced! I met my husband because I started going to a local church where he and his family attended. And someday when my kids are grown, I just may want to pursue that Masters degree, or go back to work in a job that requires me to have a degree. And (God forbid) if something were to happen to my husband, at least I'd have the security of knowing that I have my degree and could get a job in thr workforce to support my kids, if needed.
Someday, every last penny of my loans will finally be paid, and this debt monkey will be off my back. Until then, I'll remember the hard work that went into getting my diploma, the late nights staying up in the study room typing a paper that was due the next day, the sheer joy and excitement I felt when I walked across that stage and my name was called. I'll remember those moments and I'll smile, and I'll click that button and be that much closer to not only having my degree, but being free and clear of my debt and even more ready to take on the world.